Vanities are a  significant piece of bathroom furniture. As a central point in the bathroom, vanities often add considerable charm to the room while contributing to the overall style and design. There are many steps to designing your dream bathroom. These steps may range from selecting the right bathroom vanities and cabinets to installing light fixtures and the right accents.
Below are six trends in bathroom vanities that have grown in popularity and will remain relevant for years to come.
Floating or wall mounted vanities
The wall mounted vanity reveals open space beneath the sink to the floor and is attached only to the wall. It gives a look as airy as the console sink due to the floating design while offering more storage in the form of wall mounted cabinet or shelf. Keeping it off the floor makes the bathroom feel more spacious, which is great if you're low on square footage.
The storage varies according to design and you also get extra storage in the space beneath the vanity to add stackable containers or storage baskets.
Console or Pedestal Vanities
Pedestal sinks are gaining popularity and we couldn't be more pleased. For visual relief, extra legroom and more space and openness in the bathroom, a freestanding sink is ideal. Their charming vintage- look, stands alone in a pretty bathroom, and when you add metal accents, the result is a delightful edginess.
However, the storage will have to be designed elsewhere in the bathroom as pedestal sinks won't offer any. You can opt for decorative stacking baskets tucked under the sink, adjacent shelves, or a freestanding storage cabinet for the much-needed storage. Where storage isn't much of a priority, pedestal and console sinks are ideal.
Cabinet Style bathroom vanity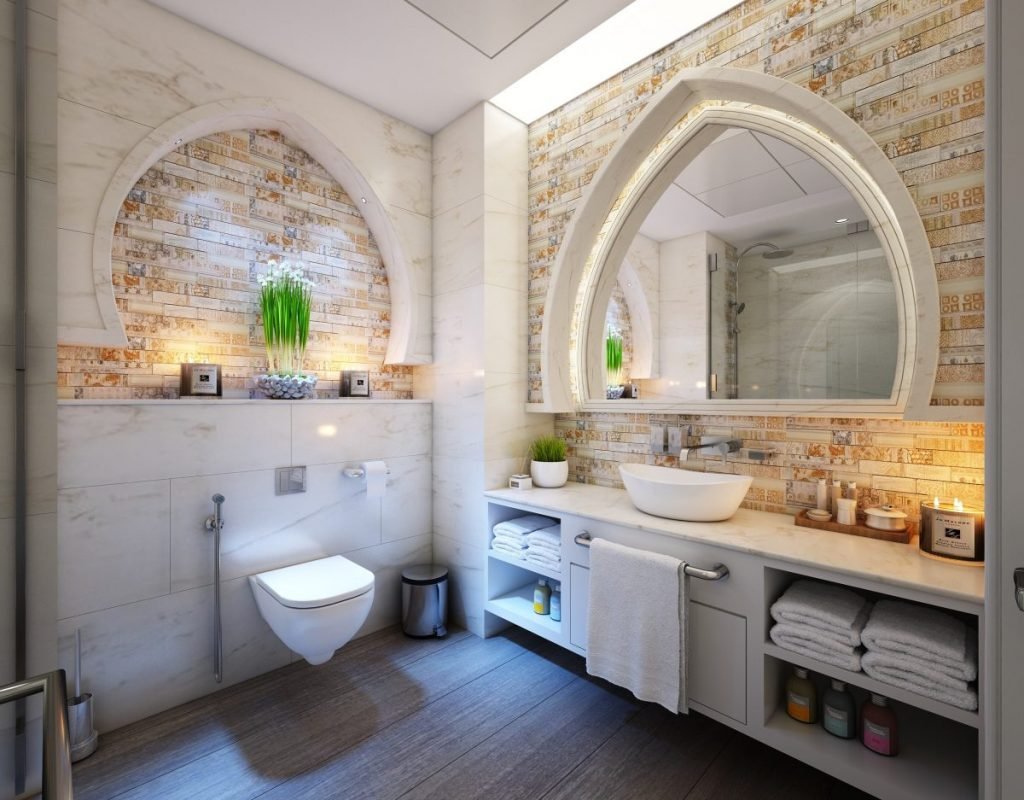 Bring a cabinet-like feel to your bathroom vanity. Look for vanities with legs that lift it from the floor and open shelving where you can put fluffy towels and chic bottles. The best part with this statement piece is that its classic look will serve as a good foundation even as your style changes.
A common yet classic choice is the cabinet style vanity. While it does take up space due to its solid shape, the concealed compartments and built in drawers provide a generous amount of storage despite the small size of your bathroom. In case your budget allows custom cabinetry, ensure that the cabinetry fits without overwhelming the space visually by considering the measurements closely.
For Custom made vanity cabinets, look for ones designed specifically for smaller spaces to avoid constraints. For a visually appealing design in your small bathroom that still provides storage, opt for a vanity cabinet designed to look like legged furniture.
Choose from cherry, mahogany, and oak to give your space a more traditional, transitional, or modern look.
Bowl Topped bathroom Vanity
Another trend is to replace sinks with vessel-style bowls. They're eye catching and unusual and add an edge to any personal style. Classic white bowl-sinks add a country cottage presence or minimalism to traditional bathrooms, while the abundance of graphic, bold and stone bowls become a staple in contemporary and bold rooms.
Modern Rustic Bathroom vanity
Shabby chic has been taken to a whole new level and evolved into "modern rustic." If you're DIY handy, refurbish an old dresser into a time-worn classic vanity. If you're not, don't worry. There are plenty vintage looking vanities you can purchase to bring in the same warm and inviting feel.
Need help installing a new bathroom vanity? Talk to our team, for assessment of your bathroom space, discussion on color scheme, finishes, and utility that fit your tastes and lifestyle.