What are they standard Sizes for Kitchen Cabinets?
In this article, we lay out the basics you must know about standard Kitchen cabinet sizes, in millimetres.
Kitchen is the centre of every modern home, so having the right kitchen cabinet sizes allows you to create the perfect space. It's fun to tinker different ideas for cabinet colours, styles, or material. However, when it gets down to it, if you don't know the right cabinet dimensions, there is a high likelihood of having un-functional units. 
KITCHEN CABINET SIZES: HEIGHT, DEPTH AND WIDTH
The number and the dimensions of the cabinets you need in your kitchen will depend on a variety of factors. Most critical will be the location and relationship with significant appliances in the kitchen. Placing the sink, refrigerator, cooktop ovens and microwave oven come first. Their position will determine where the kitchen cabinets can be placed. There are three major types of Cabinets:
The Base Cabinet
The Wall Cabinets
The Tall Cabinets
Below is a detail guidelines on most of the standard dimensions for all types of cabinets.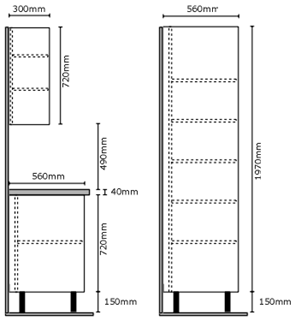 Base Cabinet Height, Depth and Width
Base cabinets rest on the floor and form the basis for other kitchen design components. They usually consist of drawers and shelves. Base kitchen cabinets are the workhorses of the kitchen design, installed directly on the floor. Countertops are laid on them, sinks installed within them, dishwashers and ranges bracketed by them, pots and pans are stored within them. Base cabinets may have one door, double doors, a range of drawers or a blend of drawers and doors.
The standard height for a base cabinet is 875 millimetres tall without the countertop and 915 millimetres with the countertop.
The base cabinet with drawer is usually about 150 millimetres tall, while the door height below it should be 910 millimetres. If the cabinet is a complete height base cabinet (one that only includes a door), that door should be 760 millimetres tall. Kitchen guidelines specify the countertop height, which consists of the cabinet height plus the countertop thickness.
The standard depth of a base kitchen cabinet is 610 millimetres without a countertop and 635 millimetres to 660 millimetres with a countertop. In some cases, up to 760 millimetres deep. Yet, deeper cabinets can make it more difficult to reach all sections of the counter and access plugs for small appliances. A standard base cabinet with countertop has widths of 305, 460, 610, 760, 840, 915 and 1220 millimetres.
Toe kick dimensions
It is essential to note that base cabinets often come with a space called a "toe-kick", which feeds into the storage space of the cabinet. It makes the countertop comfortable to stand in front of when working.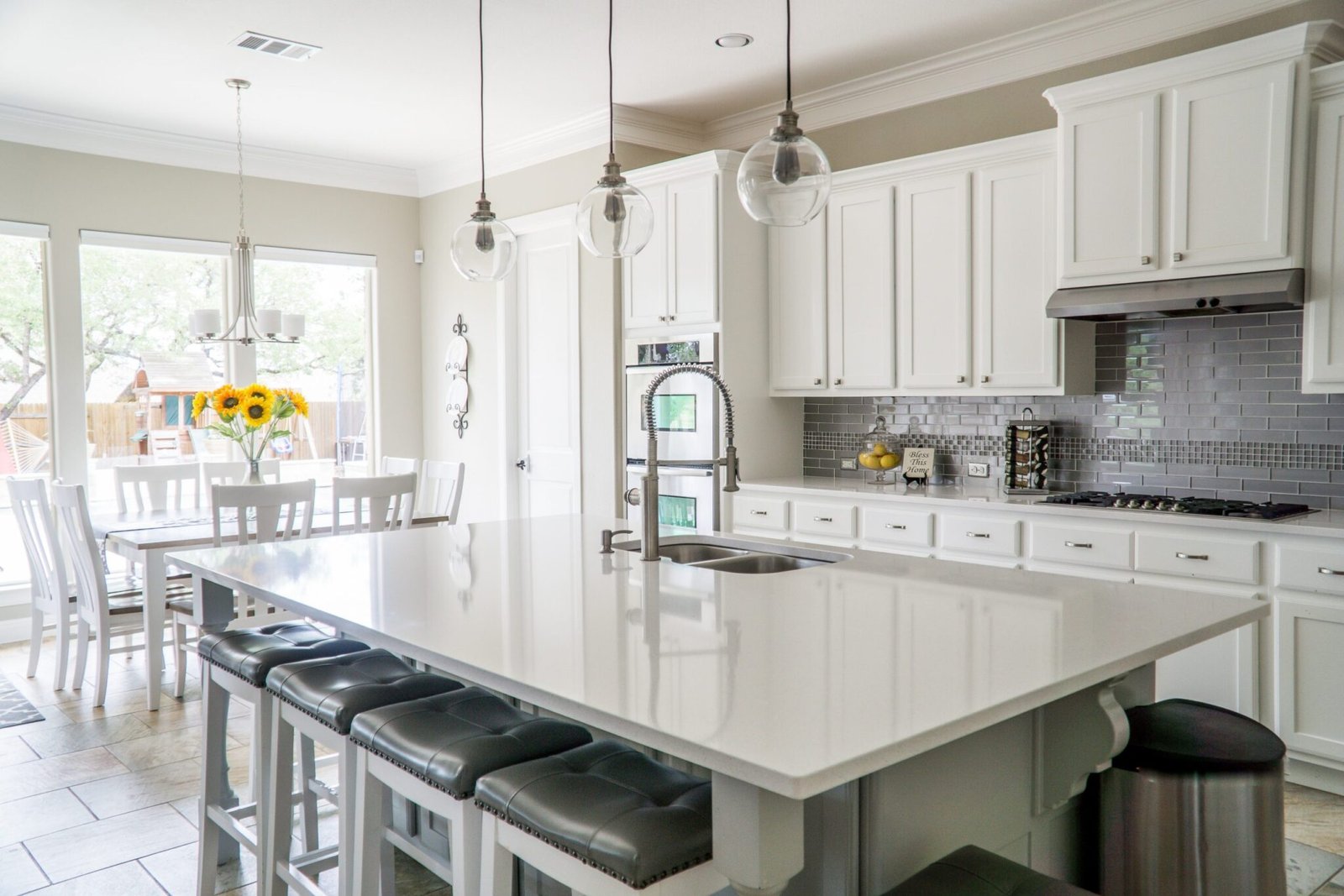 The prescribed ideal height for a toe kick is 90 millimetres high and 75 millimetres deep. But, it is a necessary feature of base cabinets to make it comfortable for users. Increasing the height doesn't hurt the overall use of the cabinet, but may reduce the space available within the cabinet slightly.
Filler Strips
Filler strips are fitted in between cabinets and the wall for support and to cover any voids or gaps. These filler pieces are common on standard cabinets. Custom cabinets are less inclined to use fillers because these cabinets are custom measured to fit in your home.
Standard Base Cabinet Sizes Summary Table:
Standard Size for Wall Kitchen Cabinets: Height, Depth and Width
The wall cabinet has a very lighter purpose, usually adopted for storing food and lightweight kitchen appliances. Typically, they are screwed on to the kitchen's wall. They are not meant to hold anything too heavy. Nevertheless, while wall cabinets are functionally lightweight, they are the focal spot in every kitchen. Wall cabinets are at an eye-level, so most people notice them right away. Because of this, the majority of homeowners prefer plain or simple base cabinets and more intricate wall cabinets with modest fittings and accessories to save on costs. Please read our article on how you spice up your kitchen space with a minimal budget.
In terms of dimensions, wall cabinets are pretty variable, depending on the usable space within the ceiling and counter. The common height for cabinets above refrigerators and built-in appliances such as microwave ovens and wall ovens is 305 millimetres, 915 millimetres and 1220 millimetres. The depth can vary from 305 to 610 millimetres, though it cannot be more than that because it cannot be deeper than the base cabinet. The width ranges from 305 to 915 millimetres, but the regular width is 762 millimetres which may be single or double-door. Usually, wall cabinets more than 915 millimetres wide are not recommended. Kitchen wall cabinets are usually fixed 460 millimetres over countertops and 1,370 millimetres above the floor. Clearance between the bottom of upper cabinets and cooker should be 760 millimetres for electric and 910 millimetres for gas.
Take into account any cornice detail you want to add on top of your wall cabinets when specifying the height.
Wall Cabinets Sizes Summary Table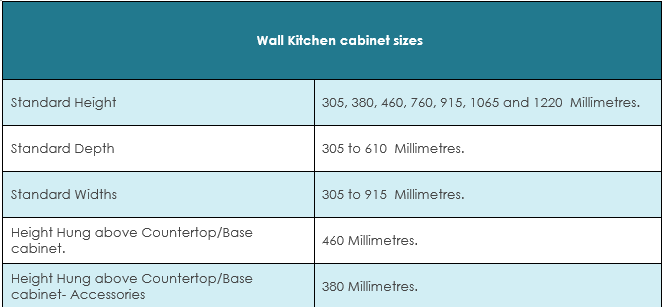 Standard size for Tall Kitchen Cabinet: Height, Depth and Width
Tall cabinets are usually used as utility cabinets or pantries and referred to as the towers of the kitchen. Similar base cabinets, tall cabinets rest on the floor and secured to the wall.
The standard height is either 2,130 or 2,430 Millimetres. The 2,430 Millimetres tall high cabinet may be enough to reach the ceiling if the kitchen has a typical 2,430 Millimetres ceiling height. A 2,130 Millimetres tall cabinet, however, will have an open foot of clearance on top for breathing space.
They have a maximum depth of 610 millimetres. But a 305 millimetres depth is recommended for use as a pantry to avoid getting food pushed to the dark back. If you fancy a tall cabinet with added depth, you can use pull-outs to make the contents more accessible.
Tall Cabinet Sizes Summary Table

Choosing the best cabinets for your new kitchen will depend on the space and your requirements. These standard dimensions should help you maximize space and increase storage efficiency. We recommend you read our article on measurements. It can be overwhelming, so you should not hesitate to ask for our professional advice, offers free consultation services and quotes. You can have the benefit of our expertise without spending a coin.
Visit us today to see what we have to offer. We have the expertise and means to design of any kitchen cabinets – ON TIME and BUDGET with highest quality craftsmanship that will surpass your expectations.